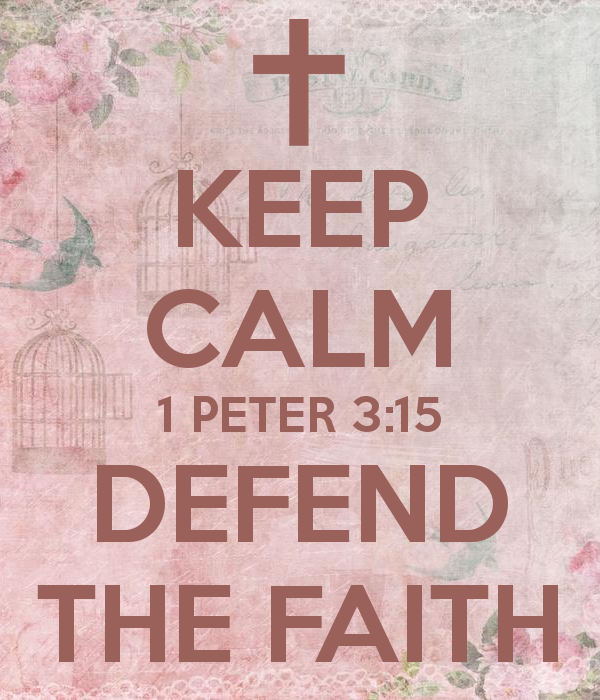 Have you ever discussed or even argued with someone about God or something related to God? If so, you were most likely expressing some kind of theology and being apologetic about it.
Theology is the study of who God is, what God is about and what we believe about these questions. Christian theology focuses on these questions in light of Christian beliefs and practices as they relate first of all to the Bible and secondly, to Christian tradition. "Apologetics" is not being sorry you've argued about God or anything else, but is a branch of theology and Christian theology that attempts to justify a belief based on reasonable arguments.
Apologetics is an important task of Christian theology and of the Christian disciple, but is often misunderstood and avoided in this culture of tolerance.
The Greek word apologia actually appears seventeen times in the New Testament and means to give a defense of what you believe or for what you have done. Perhaps the most referenced verse from Scripture regarding apologetics is from 1 Peter 3:15…but in your hearts honor Christ the Lord as holy, always being prepared to make a defense to anyone who asks you for a reason for the hope that is in you; yet do it with gentleness and respect…

Christian apologetics is a biblical, reasonable, gentle and respectful defense of the Christian faith in response to contrary beliefs in the surrounding society.
The need to make such a defense is becoming more important for Christians as our society slips deeper into secularism and becomes more pluralistic. Today, Christians need to be equipped to address atheism, immorality, post-modernism and the plurality of both new and old religions. We can be thankful that there are Christian theologians, pastors and writers who have worked at providing resources for us.
I can't say I've been a very good apologist myself. I have tried to share the hope that is in me, but often I found myself arguing and defensive rather than simply listening, asking good questions and confessing the faith within me. For many years I also had the tendency to simply accept whatever came out of the other person's mouth, thinking that it wasn't my place even as a pastor to share something contrary.
Over the last few years though I have begun to learn more about how to listen, ask good questions and respond to common beliefs that are contrary to Scripture and the Gospel of Jesus Christ. I still have much to learn, but my own poor example will hopefully encourage you to begin where you are at and become better prepared to make a defense to anyone who asks you for a reason for the hope that is in you…with gentleness and respect…